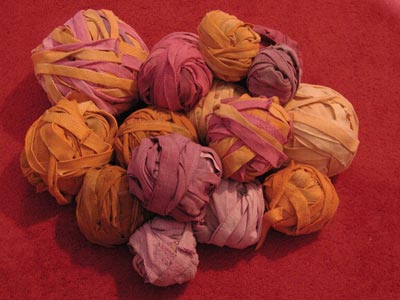 All those dyed shirts, cut into strips. The 2-color ones were made from sweatshirt rags, dyed separately & then stitched into big loops. The darker balls all started gray. I'm carrying a strand of wine-colored Schulana Morbido (80% wool/20% nylon, sorta lofty thick/thin) along the whole way.
I'm trying to decide what stitch to use. The Alterknits
version just uses garter. I experimented with plain garter, this moderately pleasing thermaly stitch that probably has an actual name (K1 row, P 1 row, *K1, Sl1 wyib 1 row, *K1 Sl1 wyif 1 row), and the K1 Sl1 wyif every row pattern used in that woven strips rug in Simple Knits with a Tiwst
. I tried them all for about a ball's worth, then ripped them out, not able to decide. I think the last one was the best suited, but just as I was feeling well pleased with it, I decided I wanted a big fat cable down the center and ripped it all out. Then I decided that would be stupid with such busy fibers, but it was too late. Story of my life.