It took me like a dozen tries of a dozen stitches before I decided that the one called for in the book (garter) was truly the right stitch. I don't know why I thought I knew better. Anyway, I knit it all up with my pretty pink and orange-dyed tshirt yarn. And about 3/4 of the way through I realized that, while pink and orange make perfectly pretty yarn, a pink and orange rug has absolutely no place in my home. What was I thinking? It's like all the acid green yarn I buy for scarves and sweaters, knowing how tragically putrid I look in acid green. And yet I can't resist.
So I finished it and threw it in the washer with another round of RIT, this time dark brown. And it came out well enough. Not as dark as I'd like (think some of the sweatshirts must've been 65/30 poly/cotton, because they didn't take dye well), but fairly pleasing. Except then I threw it into the dryer, where the seams broke and unraveled and made two big holes (which were actually pleasing themselves, but they'd just get worse and worse, so…). While I'm easy-peasy fixing dropped stitches while I'm knitting, fixing them from both directions with two mysterious ends was more than I could decipher.
So I unwound most of it, mended the yarn & I'm starting over. Look at that big ball! Those are my feetsies, for scale: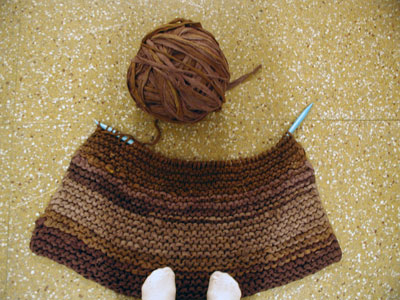 The good news is that the rug is wonderfully cushy. I heartily recommend one as a use of crappy free tshirts. I used about 6 whole tshirts and maybe 4 sweatshirts' of fabric, but I used more than just the torso, so my yarn's irregular. I cut the sweatshirts 1/2″ wide and the tshirts 1-1/5″ wide to compensate for the weight difference. Used 19 needles. (They're Lion needles. Crappy cords, but they're very long for circulars and are nice and easy to hold, and light & they knit quickly.)
Anyway, I'm officially putting away the knitting until I finish my 10 Things To Do list, which I'm making up now.
Fix the stupid install so I can get to my mail.
Send out Prom evite already.
Make a no-artist-bio version of press release, just in case.
Address 50 postcards.
Go to USPS.com & see if there are any particularly nice postcard stamps
Call bed guy about bulk discount.
Clean off desk.
Go over Big List with Ron & make a timeline.
Call Penske re: reserving truck for Boeing run
Make list of who needs to get press releases.
There!