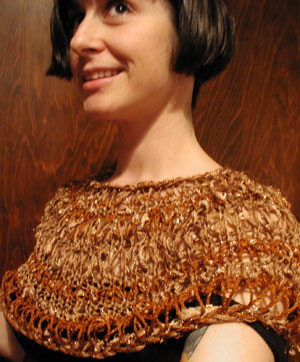 Time: 3 hours
Cost: varies by yarn
Level: Beginner
Size: Women's medium. For larger sizes, CO 10 st additional for each size up.
I made this wrap at the behest of my mom, who wanted a loophole to get her through her office's dress code, allowing her to wear tanks and camisoles in the summer. The point of this wrap isn't to keep warm, or even really to cover up, but to give the appearance of being covered up, something like cutting the feet off your tights in high school and calling them leggings to get away with wearing your alarmingly short skirt.
It knits up fast and easy, thanks to the big needles and elongated stitches. Gauge isn't super-cricital–use any 3 worsted weight yarns. Kristi's a magpie, so the multi-yarn version is full of bling.
The elongated stitches in this version are worked by wrapping extra YO on the right needle before knitting each stitch in the row. The following row is knitted with the same number of stitches, dropping the extra yarn-overs from the previous row. This method varies from the elongated stitches in the mohair version, but the end result is almost identical.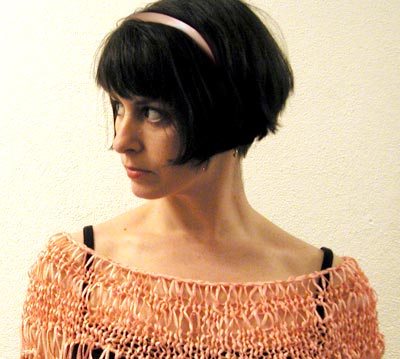 The multi-yarn version uses about 60 yds of each yarn, so it'll work for scraps. If you run out, just bind off sooner, preferably immediately after a drop-stitch row, so it won't curl. The single-yarn version has a wider neckline (BO a few rows sooner–also handy if you run out of yarn.
Tip: If you're using interchangable circulars, use a smaller needle for your left needle once you start dropping the elongated stitches. The stitches will slide across easier, so you don't have to fight with them.
Multi-yarn version
~60 yds each three coordinating/contrasting yarns. C can be an effect yarn.
Used:
A: 1 ball Berroco Softwist (59% Rayon, 41% Wool, 1.75/oz 50 g,100 yds/92 m), 9439 Ginger
B: 1 ball Berroco Glace (100% Rayon,1.75 oz/50 g, 75 yds/69 m), 2535 Fawn
C: 1 ball Berroco Opulent FX (100% Nylon, 1.75 oz/50 g, 103 yds/95 m), 7812 Polished Copper–discontinued–$2 closeout at yarn.com
Single-yarn version
~100 – 150 (for fringed version) yds any ribbon yarn
(I used 1.5 balls Karabella Diamonds, which is way expensive, but I had it leftover from a Naughty Needles pattern that didn't work out.)
Fringed version also requires 2 ft of 3/4 to 1″ wide satin ribbon in a color you like with the ribbon yarn
Needles
US 15 24″ circular needle
Instructions
Multi yarn version (single-yarn version). If only one instruction is given, work both patterns the same. In the case of the single-yarn version, follow the same instructions using 1 strand.
Using all 3 yarns (using 2 strands), CO 80. Join & PM.
Row 1: Yarn A: K, wrapping yarn 3x on each stitch.
Row 2: Yarn A: K, dropping extra wraps
Row 3: Yarn B & C: K
Row 4-5: Yarn B: K
Row 6: Yarn A: K
Row 7: Yarn A & C: K
Row 8: Yarn A: K
Row 9-10: Yarn B: K
Row 11: Yarn B & C: K, wrapping yarn twice
Row 12: Yarn B: K, dropping extra YO
Row 13: Yarn B: K
Row 14: All yarns: *K 3, K2tog, repeat from * across row
Row 15: All yarns: K, wrapping yarn twice
Row 16: Yarn A: K, dropping extra YO (BO, knitting each stitch once and dropping extra YO)
(Following are for multi-yarn version only. Or end striped version as above if you want a wider neckline.)
Row 17: Yarn A: *K 2, K2tog, repeat from * across row
Row 18: Yarn A: K
Row 19: Yarn B & C: K
Row 20: Yarn A & C: K
Row 21: Yarn B: K, wrapping yarn twice
Row 22: All yarns: BO, dropping extra YO
Finish neckline by threading with Lily Chin's brilliant method. Thread the tail end onto a yarn needle. Then insert under the first bound-off chain after that big ugly gap. Go under both loops of that chain, like you would if you were picking up stitches into it, then pull the thread through and insert the needle back into lthe middle of the last bound-off chain (where you originally pulled out the tail). Pull taut to even out, then weave in end into the top edge.
Grasp by the top & shake vigorously to pull taut the dropped stiches. For slippy yarns, that will be enough. For less slippy yarns: grasping the the neckline and hemline, tug gently to pull the elongated stitches taut, working around the entire wrap twice. If you cast on with the long-tail method, pull the hemline taut width-wise as well.
I disapprove of the fringe, hence hiding my face in shame, but I know my mom will dig it, and the whole point of making handknits for other people is to give them what they'll actually like, not to impose your own values on them, right?
So if you want fringe, cut five 12″ strands for each tassle. Place a tassle every 5 – 7 st around hemline, leaving spot for the center tassle. Cut six 2′ strands, hold with ribbon and make final tassle.
I wish I had a nicer dress form or a mannequin. I'm getting too old to look cute in pictures I take of myself. Sigh.