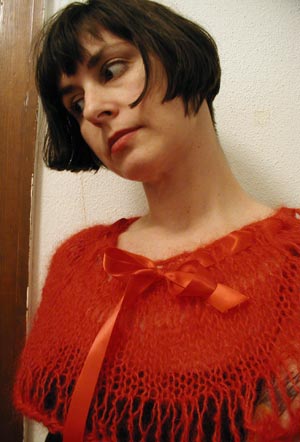 Time: 2-3 hours
Cost: $5
Level: Beginner
Size: Junior one-size/women's medium. Cast on 12 more st per size up to make it larger.
Here's another wrap I made this wrap at the behest of my mom, who wanted a loophole to get her through her office's dress code, allowing her to wear tanks and camisoles in the summer. The point of this wrap isn't to keep warm, or even really to cover up, but to give the appearance of being covered up, something like cutting the feet off your tights in high school and calling them leggings to get away with wearing your alarmingly short skirt.
It knits up fast and easy, thanks to the big needles and elongated stitches. Gauge isn't super-cricital, and you can sub any worsted mohair yarn. The stuff I used is a gorgeous tomato red and super-cheap. I bought it on ebay. It's from Russia, and I'm not sure what it says about me, but I have to say I really like not being able to read anything on the label.
I had over 1/3 of a ball left, so I might make another one, with a wider neckline, jumping to Row 14 right after Row 11. The neckline on this one is sweet and demure, but a couple rows shorter would be sassier. Plus, I won't have enough yarn otherwise.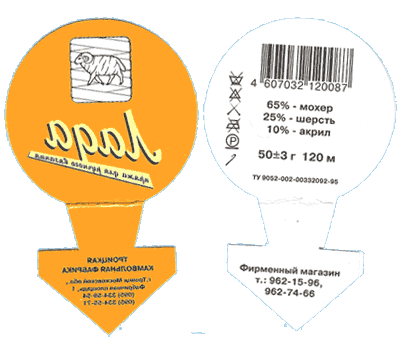 The elongated stitches on this version are made by wrapping the yarn around both needles, then knitting normally. This results in a giant, loose stitch (versus the other way, used in the other loophole wraps which results in a bunch of yarn overs, then a giant stitch on the previous row, after the next row is knitted and extra yarn overs are dropped).
Tip: If you're using interchangable circulars, use a smaller needle for your left needle after the first row. The stitches will slide across easier, so you don't have to fight with them.
Yarn
1 ball this yarn (50g, 120m, 65% mohair, 25% wool, 10% acrylic), or another mohair blend with a similar yardage/ball
2 yds 3/4″ satin ribbon in a coordinating color
Needles
US 15 24″ circular needle
Instructions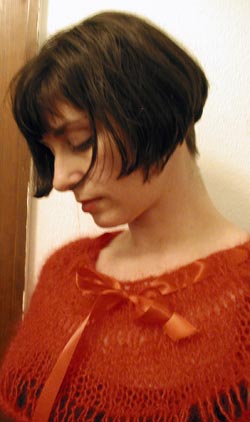 Using 2 strands, CO 100. Join & PM.
Row 1: Drop 2nd strand. Insert right needle into stitch knitwise, wrap yarn around both needles twice, then knit.
Rows 2-9: K
Row 10: Insert right needle into stitch knitwise, wrap yarn around both needles, then knit. Repeat across row.
Row 11: K
Row 12: *K 3, K2tog, repeat from * across row
Row 13: Insert right needle into stitch knitwise, wrap yarn around both needles, then knit. Repeat across row.
Row 14: K 2, BO, *K2tog, BO, K1, BO, K1, BO, repeat from * across row.
Finish neckline by threading with Lily Chin's brilliant method. Thread the tail end onto a yarn needle. Then insert under the first bound-off chain after that big ugly gap. Go under both loops of that chain, like you would if you were picking up stitches into it, then pull the thread through and insert the needle back into lthe middle of the last bound-off chain (where you originally pulled out the tail). Pull taut to even out, then weave in end into the top edge.
You can approximate that on the bottom as well.
Grasping the the neckline and hemline, tug gently to pull the elongated stitches taut, working around the entire wrap twice. If you cast on with the long-tail method, pull the hemline taut width-wise as well.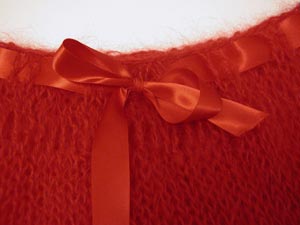 Spray and block dry, either by pinning flat, pulling elongated stitches taut, or by using a skirt hanger and clipping a steel knitting needle along the bottom edge.
Weave the ribbon through the elongated stitches. I went under 2 st and over 3 (so more ribbon was exposed than covered). Tie in a bow. I tied mine off-center because I like having one long end, but you can center if if you're into symmetry.