So I've been swatching yarn trying to pick the very bestest so I can start crocheting my big project for Vickie Howell's book, but I decided to just go ahead and use the whole ball so I can get a better sense of drape and yardage. I still haven't found a yarn/color combination I'm happy with. The Berroco Ultra Alpaca (50/50 alpaca wool, in very rich multihued heathery color blend) had nice yardage & the alpaca gives it great drape, but the color's just too green (at least unfelted). 1 hank made a 40 x 7″ scarf in sc.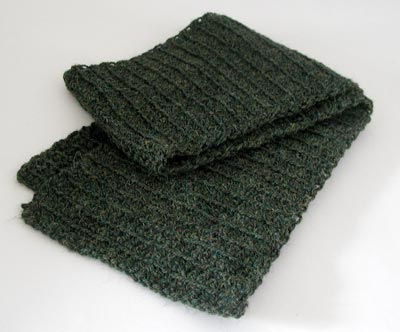 The Tahki Donegal Tweed (100% wool) is closer to the color I'm looking for (dark khaki green/brown), but maybe too tweedy? And it doesn't have the drape of the alpaca blend, but there's good yardage here, too. One hank made a 45 x 6.5″ scarf in sc.
The perfect color (it's a little khakier than it looks here) was the Peruvian Collection Baby Silk (80% baby alpaca/20% silk), but the yardage is awful (although, everything's relative–for the price, it's pretty comparable) because it's a "luxury yarn" & comes in tiny 25g balls, and it's just too fine for my purposes, so I had to double it, which resulted in a tiny 7 x 9″ swatch from a whole ball.
I seamed the side & I'll be using it for a beer cozy, unless it's so dreamy felted that I'm beside myself and decide to use it after all. But it's already seamed, so it will still be a beer cozy.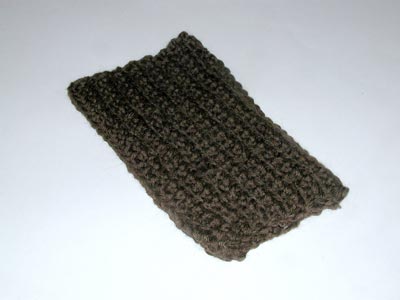 The next step is to felt them, but I was curious about their washed properties for future reference, so I gave them a little bath before their felting. I don't know whether the donegal got shorter or the ultra alpaca got longer because I'm waiting until they're dry to measure, but they're the same length now. The baby silk definitely is larger row-wise. I didn't try to block them back to their original dimensions, just patted them out to see what they do naturally (below: donegal, ultra, baby).