Okay, I don't think I actually made some big pronouncement last time I fell of the yarn wagon (mmmmm, yarn wagon….), but I should be laying off. Sort of like I'm not officially on a diet, but I shouldn't have finished off that jar of Kisses last night. Anyhoo, the stuff I bought is for an actual pattern that I'm actually going to make (next month–too much unfinished stuff right now), a very cute top. And the pattern came free with the yarn and the yarn was cheap, so what do you want from me?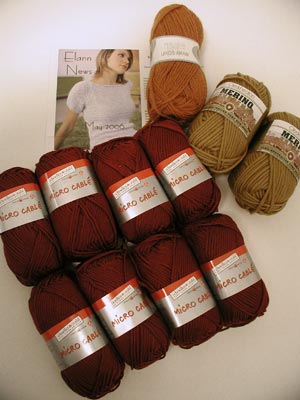 The top is here and the yarn ($1.98/ball Schoeller Stahl  Micro Cable, which unaccountably has an accent over the final e?)it uses is smooth and shiny and nice to knit.
Then to round up to $25 because I feel compelled to use one of my $2.50 off $25 credits (which I realize is their ploy, but I buy it anyway), I bought 2 balls of Cleckheaton Merino Supreme at $3.50/ea. It's buttery yum and has an almost cottony touch that looks prone to pill (like the Debbie Bliss Cashmerino), I'm thinking mittens? I love the acidy pea color, but it looks crap on me. But down on my mitts, who will notice?
The last ball is $2.98/ball Peruvian Collection Uros Aran, 50/50 wool/llama, just because I was curious about llama. It's nothing standout, maybe a little softer than the Highland Wool but the color (congac) is very pretty, autumnal, and a little darker/richer in person than on the site (like most of the elann colors–I always like them better in real life, which is a nice change from most sites). I wouldn't use it next to my skin, but I'm a titty baby about wool. (The Cleckheaton could go against my skin. Hm. Maybe I should make that hello yarn neck warmer instead. Maybe if I edge it in black, no one will notice how fugly I look in acid pea green…)