My Webs order came yesterday. I immediately photographed it & put it all away before Ron got home. I'm officially an ashamed addict who has to hide her habit. It's horrible. And seriously, I can't stop thinking about Webs grab bags and how much I want some, even though I'm totally too busy to knit just now, and even though I have a lifetime of yarn in my stash. BUT I CAN NOT RESIST A BARGAIN. This is my downfall.
Okay, here's what was inside the big 23-pound box: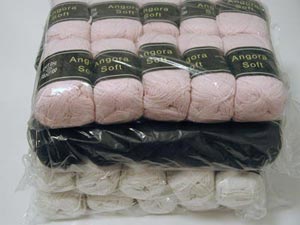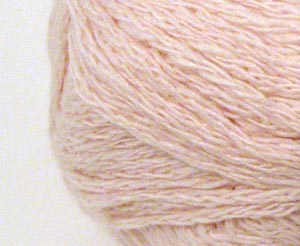 1) 4 bags K1C2 Angora Soft, 2 to knit into plush, light sweaters (black & pink), 2 to dye (white). I got a bag of this in pale green in my last Webs order grab bag & wasn't overly impressed until I swatched it. It was very nice to knit. It's a soft chain yarn with nylon, viscose & angora, soft & drapey. $22.49/bag of 10 after discount.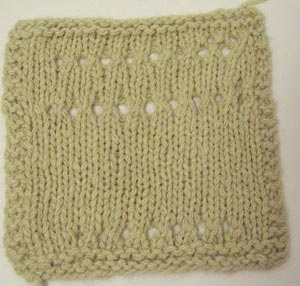 (I've started knitting my unwashed stitch & row count into my swatches. The bottom's the needles size, from Lily Chin & then I put the counts in the top. It's handy, because I'm seldom together enough to remember to record the values before I wash.)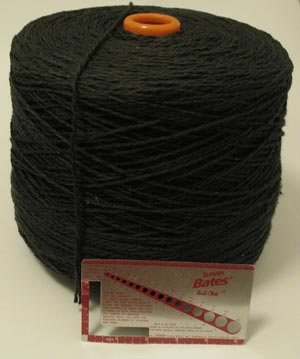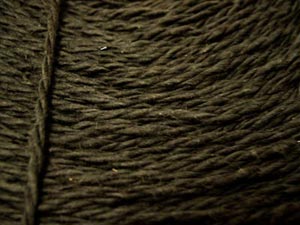 2) a big cone of black cotton, for a rug, probably, or something housey. $3/pound. This was 6#.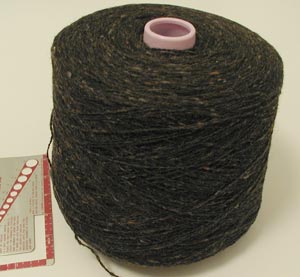 3) Donegal Tweed, $12/# (about 2#). I'm really eager to swatch & wash this. It looks like it will be very very pretty. (Later…and it is! But still too scratchy by the skin. Here are two tiny microswatches I made, one just washed and one lightly felted:)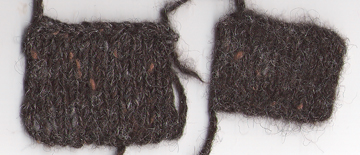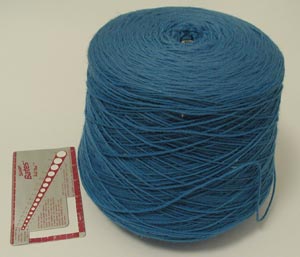 4) Worsted mill end yarn $5/# (about 2.6#). Who knows? It's soft enough.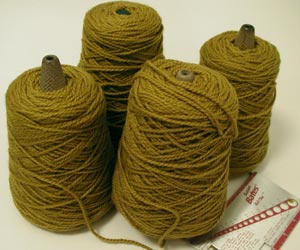 5) Acidy green rug wool, $4.50/pound (~2#). For an acidy green throw rug!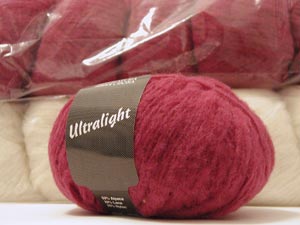 6) 2 bags of Ultralight ($30/bag of 10). 53% alpaca, 22% wool, 25% nylon. Lofty and fuzzy! One bag in a hot pink for a tight ribbed sweater, one in white for dying. The color's a little more retina-burning.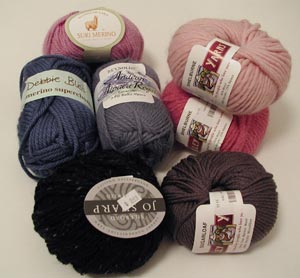 7) a bunch of singles, which I don't normally like to do, but most of these are on supersale for the Webs anniversary sale & I wanted to swatch them & see what I thought. The sale goes until May 26, so even with Prom, I should have time. There's Debbie Bliss Merino Superchunky, which I bought to see if I preferred the blue to the green I made into a yummy 1-ball doubeknit scarf;
 
Reynolds Andean Alpaca Regal (90% alpaca, 10% wool) on sale for $6.75/100g, which I was hoping would be a good substitute for the Plymouth Baby Alpaca Grande, also on sale, but a bit more expensive–the Alpaca Regal seems less bulky, but it might just be that the skein is more tightly wound.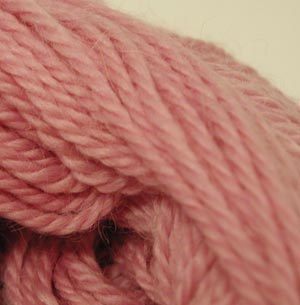 Plymouth Suri Merino. I don't remember choosing this–I guess I just wanted to sample it?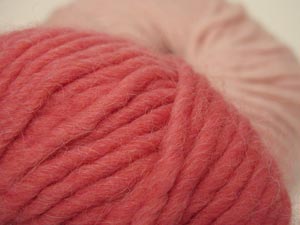 Valley Yarns Shelburn in a soft & hot pink, a wool/acrylic/alpaca soft twist bulky that's pretty, but doesn't approach the value of the Valley Yarns Berkshire Bulky (wool/apaca softwist), but it is loftier, so we'll see how it knits. I'm going to use the two in a sideways knit garter skinny scarf. (Later: instead made the Double Bubble Double Knit scarf.)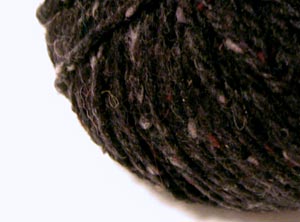 Jo Sharp Silk Road Tweed in licorice, on sale for $6/ball–the solid got props from Knitter's Review, and it feels super dreamy. And that last one is Valley Yarns Sugarloaf, a merino/microfiber blend that reminds me of Lion Kool Wool, only lighter, but that didn't bowl me over. Of course, it does look nice and lofty, and should have dreamy stitch definition. I'm fond of Kool Wool, but it's been discontinued & so it's easy to find for cheap right now (Smiley's has it for $2/ball–I bought a ton of it when they had it on special for $1.25). I haven't knit it yet, so we'll see. I also ordered a cone of alpaca/lambswool blend on closeout, but they sold out, fuckers. It looked yummy & I was psyched about making a sweater from a cone, a sweater that might not need a shirt under it. Cone yarns, at least the ones on closeout, are usually so scratchy.