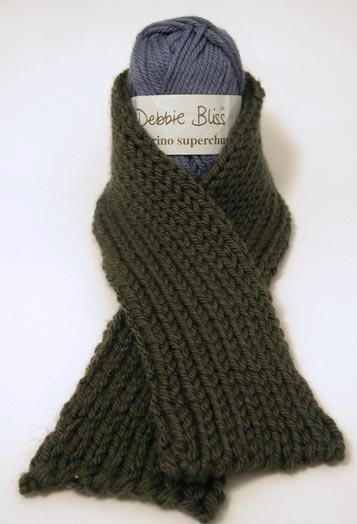 Time: 2 hrs
Cost: $8
Skills: Knitting, kitchener's stitch
Level: beginner
It's a short scarf, but it's double-knit, so it's double thick and double toasty. Just the right length to wrap once and tuck into your collar. It's knit of Debbie Bliss cashmerino superchunky, which is normally pricey. But Webs has 3 yummy closeout colors that are just $8 each. It's a 100g ball, so it's a very good value. The yarn is delectable, butterysoft and lofty and yummilicious. I've heard it's prone to pilling, so I was reluctant to buy a sweater's worth, despite its skin appeal.
All 3 closeout colors are unisexy, so you could buy a bunch and finishe off your holiday knitting in a weekend. Anyone would be thrilled to get this little goodie the moment they touched it. (My color's not great–the green's close & the blue is somewhere between what you see & what the Webs site shows. But they're all pretty.)
If you've never double-knit, this is an easy introduction. You'll knit every other stitch and slip the alternate stitches with the yarn in front. In effect, what happens is that you're knitting one side of doubled fabric at a time, using every other stitch in your working side (the yif slipped stitches keep the opposite side's work out of the way untiel you flip it). You end up with a tube that's seamed at the bottom, so the result is almost like knitting in the round. But it stays flat. I'm sure there's a reason, but I don't know it.
Yarn
1 ball Debbile Bliss Cashmerino Superchunky (55% merino, 33% microfiber 12% cashmere, 100g/83yd) Webs Closeout (or you can buy the current colors for about $15 ball)
Needles
US 11 dpns
yarn needle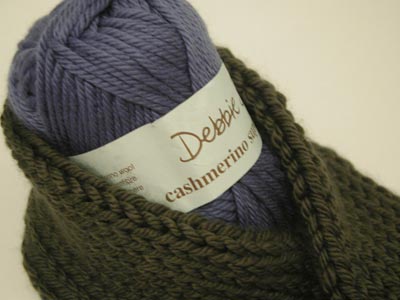 Instructions:
CO 18.
Every row: *K1, move yarn to front, Sl 1, move yarn back.
Continue until you've got about 18″ of yarn left, then split the stitches between 2 dpns, alternating every other stitch between the 2 needles. Seam the open end with kitchener stitch. (If you're afraid of kitchener stitch, you can K2tog, *K2tog, BO across the whole row, but it's a stiffer end.