About a week ago, when I finally got paid, I went on a little bit of a yarn bender. It was kind of ugly, really. I could've bought another full mattress set with what I spent on yarn (which sounds like a stupid point of reference, except that we bought 14 beds this weekend). Anyway, I've already run through guilt, remorse, shame, self-recrimination & acceptance. And then I got my yarn, hurrah! Well, I got some of it. The Webs stuff is still in transit.
From KnitPicks. This shows the best color accuracy.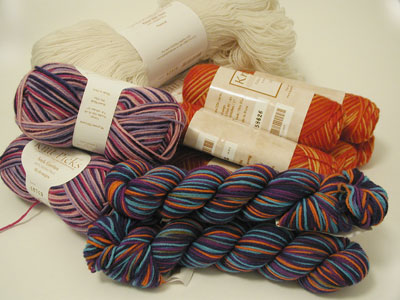 That includes 2 skeins of the clearance ($2.99/skein) Sock Garden 100% merino sock yarn in Hydrangea, for my imaginary socks (try as I might, I couldn't get the color right. It's more saturated & purplier):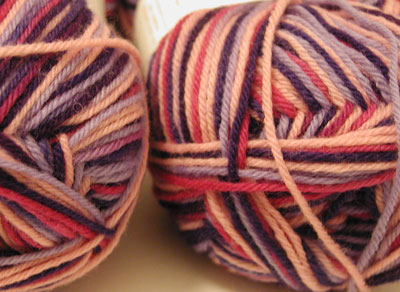 2 hanks of the clearance  ($2.99/skein) Sock Memories 100% merino sock yarn in Carnival (in real life, darker, bluer), for my other pair of imaginary socks: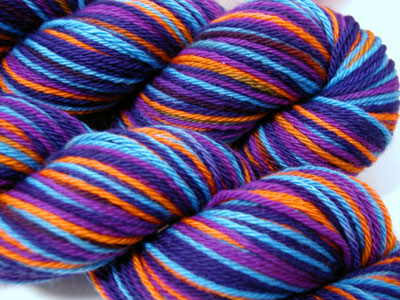 It stripes thusly, sockwise:
6 skeins the clearance (also $2.99/skein) Sock Garden 100% merino in Zinnia (not as retina-burning as here), for either imaginary knee socks or maybe an imaginary pullover vest or something? Maybe a cute striped too-short punk vest to wear over a white button shirt with tails and kinderwhore skirt? For when I lose 20 pounds and am not ashamed to show my tremendous grapefruit skin thighs? (By the way, no one ever lost weight eating doughnuts and 90% off Easter chocolate from Target, especially when that chocolate is a giant chocolate egg with a marshmallow peep inside. I know this, and yet…)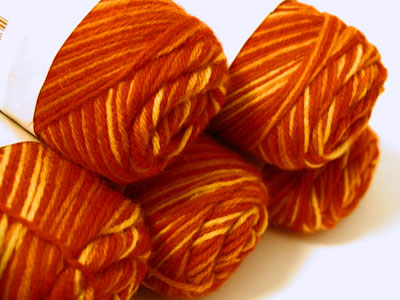 It stripes like this in sock form:
And then 3 skeins of various weights of the dye-it-yourself stuff: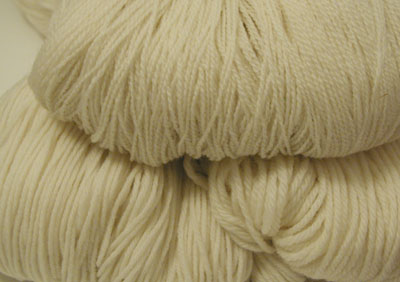 The hanks were pleasingly fat, and the yarn's soft, classic yarn. Nothing mindblowing, but perfectly nice & suitable for next-to-the-skin use. I might get a bunch of this for the workshop, for practice yarn. It's $3.99/100g.
So that's knitpicks. But that's not all!
I got some teeny (really teeny, like 14-31yds each) little skeins of handspun pure angora on ebay. There should be enough to make someting tiny and striped. I don't know what yet, maybe some little cuffs or a little fuzzy choker or headband. It's nice because it's pretty chunky (3 worsted, 1 sport) for angora, and there are a few lovely, alarming, irregular tufts of fur in the mix.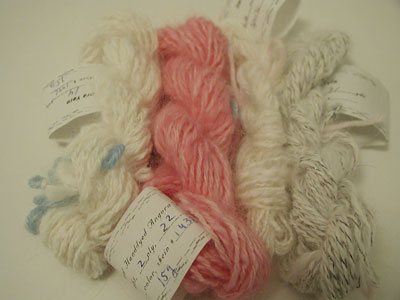 The last was also an ebay package.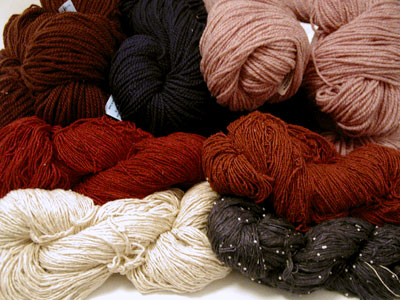 I originally went in for the Briggs & Little, this total grandma wool yarn that I really like. It's kind of greasy/scratchy, but warms to your touch & becomes very pleasing to knit, then washes up all lofty & nice. It's very no-nonsense & unfancy, which makes me unaccountably happy. They're also cheap and come in big, fat 4oz hanks.
They were cheap ($1.99ea), & I bid one one before I realized she was in Canada & shipping would counteract the cheapness factor (which was stupid not to realize, because B&L is Canadian). So I thought it in my best interest to maximize my order. So I got 3 skeins each of the pink, brown & navy, then added 2 skeins of supersaturated colored silk ($6.75/100g), in true red (below) & brick. I am well pleased with the colors. Assuming it knits up like I hope, I'm expecting to make a summer tank of it, maybe red in front & brick in back, or red on top & brick on bottom?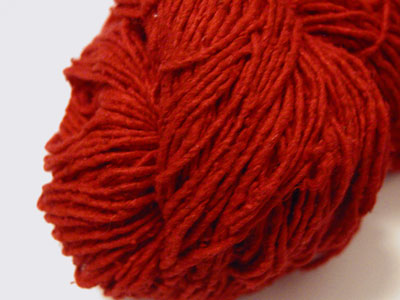 and then a hank of undyed silk, with a mind to dying it. The undyed had a looser texture, sort of a silk version of Henry's Attic Inca Cotton? Ron said it looked like rag mop, which it does, but I still like it. It was $4.99/100g.
Last is a silk/viscose blend strung with little tiny fake pearls.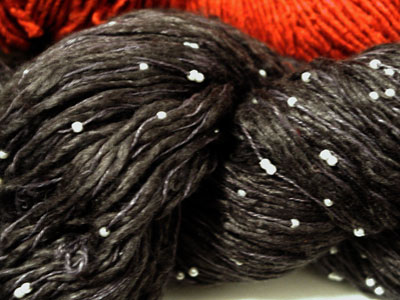 This is the only one I don't know whether I like yet. It's not as shiny as it looks here, and the little pearls are kind of cheesy. But it might knit up nice. Or if I could dye it and get it blacker, I think I'd be happy about it.