When I'm done with the burlesque show, my next big, fun project will be dying the cone on the top right into on continuous string of self-striping yarn for a big wool blanket.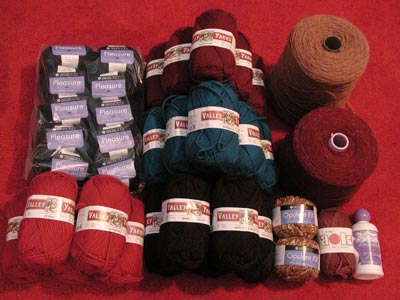 It was from a Webs closeout, I think something like $10 or $12/pound. So instead of being clever and bundling it as I unwound it from the cone, I went into sort of a hypnotic frenzy and unwound the whole thing into a massive bundle, too heavy for my swift:
I used that as an excuse to buy the bigger swift with a Joann 50% off coupon & free shipping. (Yes, I am an elite member of the Joann free shipping club. I think that means I spent $100 or so. It's not actually elite.) With a lot of fevered negotiating, I got it to stay mostly on the bigger swift so that I could wind it into bunches with a Louet skeinwinder. It was still so heavy that I'd have to spin the swift with one hand and wind with the other until it was 75% wound.
The problem is, you can only hold so many bundled hanks on the winder before you risk a big tangled mess. So I'd wind 5 30-yd mini-hanks, tie them off as I wound them, then stop every five and bundle them into a twisted hank, strap the hank to arms of the winder, and continue. Eventually, I got this:

When released, it's this: one continuous strand wound as 14 150yd skeins subdivided into 5 30-yd hanks. I'm going to pick probably 5 colors and a few intermediate tones, and lay it all out on the counter, and dye them all in order, wrap each in its own plastic wrap, and toss the whole mess in a roasting bag in the electric roaster at the lowest setting for a couple of hours, and hope for the best. Hm. I also have a beautiful enameled stockpot that I had to take out of cooking commission because of the chipped bottom. I could get a steam tray and steam it all tamale-style instead.
Although, hm. It would probably make more sense to use the pot to make actual tamales. Duh.
So, now that I've wasted all that time, here is a very reasonable questions: Why didn't I just cut the 5-bundle skeins, since it's wool and would splice easily and then I could dye the colors more conveniently and then splice them back together in my chosen order?
Because I am a fuckwit.
Today I packed up 10# of very soft by really neppy, vm-y roving that was making me depressed and shipped it off to Zeilinger to be reprocessed into combed tops. That will make the final cost of the stuff insanely expensive (original cost + shipping + cost of roving + silk added to it to prevent neps, which didn't actually work + shipping back to me + shipping to Zeilinger + expensive combing + shipping home). I don't even want to fill in the blanks on that equation. Math is so mean. And because I didn't have enough of either to meet their quota, I had to combine the white and the gray, which, who knows? But I figured I'd rather beat a dead horse one last time that to shake my fist and curse the heavens plowing through 10# of it on the wheel, right? Now watch the tops totally suck.
I really should do that math, to punish my stupidity, and as a cautionary tale for future raw fleece purchases. New rule. I may purchase no more than 2 fleeces per year for personal use. (I've already met my quota this year.) And no more than 3 for Yarn School, since we really actually only get through one anyway.
Maybe I should also buy some combs. Except: what money?
In other news, The Harveyville Project is in the new ReadyMade, but I haven't seen it yet, since my subscription is always weeks late, and I'm not driving 40 minutes to get a copy when there's one (eventually) on the way. But I have seen some of the pictures here, and ReadyMade is generally pretty positive, so I'm crossing my fingers. We're also going to be in the summer Venus!
I'm going to go back to panic knitting for the burlesque show. Good day.