My plan was to finish/produce one new project a week, but it turns out maintaining my focus is easier said than done. Instead of finishing each project in turn, as I meant, I bounced around and did little tidbits of various odds and ends. Le sigh. Still, progress!
Project #1: Use the indigo vats.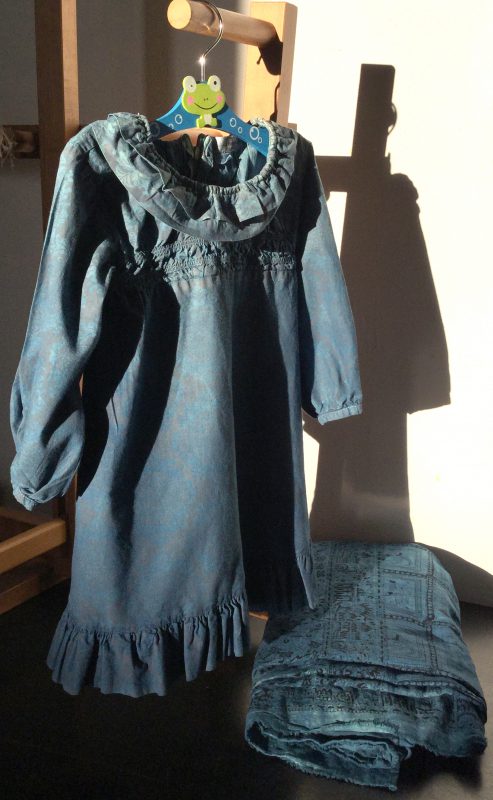 I dyed a duplicate dress of Twyla's with a not-great ombre effect. Might redip it if I can successfully revive the vats when it warms up. It was really too cool at the time to bother. Plus about 2 yards of gauzy vintage cotton with some kind of a rustic print. The irregular print was actually kinda cool, but the fabric was ugly, stained, busted, and yellowed, so a sloppy overdye actually looks pretty good on it. It will become a summer dress for me, probably.
Project #2: Itchy sparklepants sweater. Status: halted. I ran out of attached yarn and can't locate the second ball. So it's on hold. Which is fine because it's too hot anyway, and Twyla probably won't even wear it, as she claims it's itchy. She also claims she'll wear it over a long-sleeved shirt, but she is a notorious liar.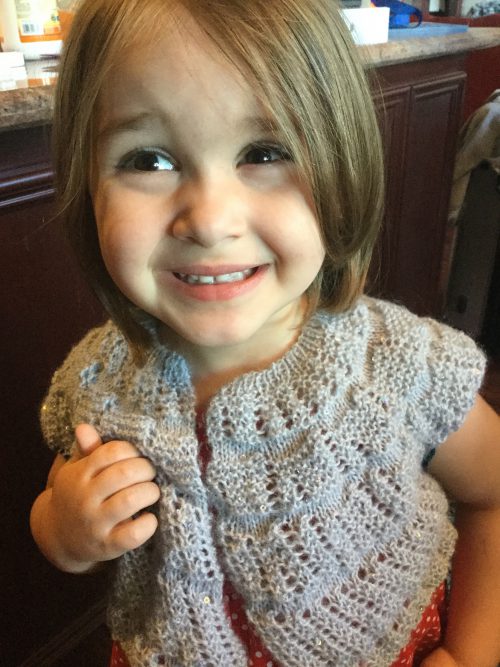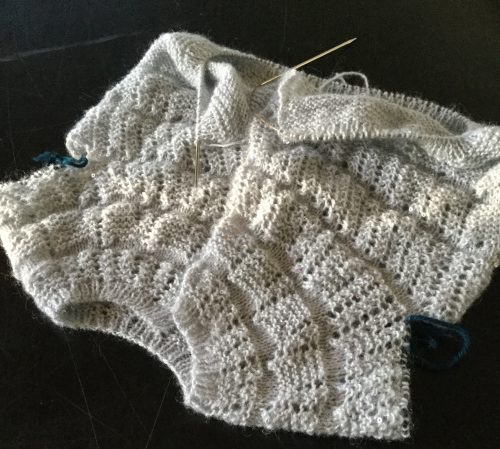 Project #3: T-shirt rug. Status: woven, needs to be finished. Weaving's done. The edges look terrible. I'm going to bind the whole thing in twill tape, which I hope will tidy it up. Size is weird, too long (about 6 1/2 feet x 30 in) because I warped my loom 2 years ago and couldn't remember how long I'd made it, so I just continued until I ran out of fabric. The last couple feet are more irregular because I was using the tops of the shirts, so there were seams and printing. I might take that bit off for a more uniform look and a less awkward size, then use it up later in a cat mat or somesuch. I don't mind the seams and printing per se, just that it's all at one end.
What I do like are little details like this, a little nod to my former life (this, from the end where the prints are rarer).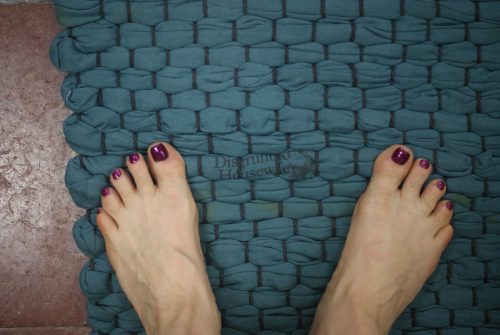 And now I'm being fearless and showing the ghastly edges. I bought some 2-inch black twill tape, but I'd rather a wider edge, so I think I'll sew use a full strip on each side instead of binding it the usual way, if I can make it look nice. I'd really prefer to machine-finish, but I'm not sure my lightweight machine can make it through all this nonsense.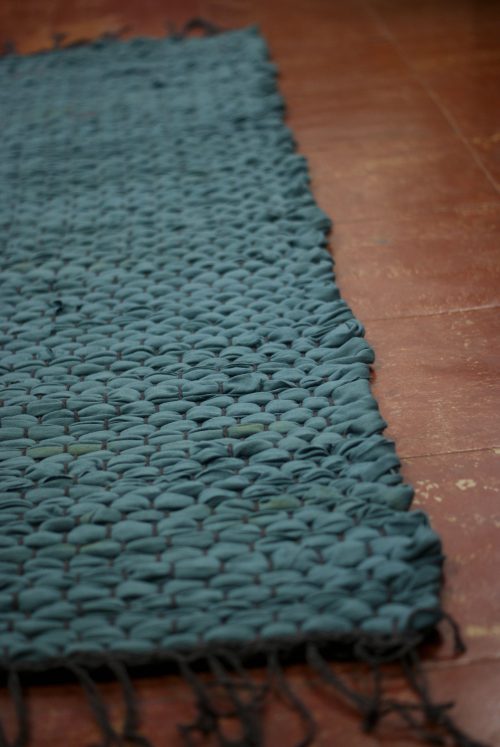 Project #4: Sideways cardigan.

After a false start at the wrong gauge, a disappointing end to the contrast yarn, a relieved additional ball purchased on ravelry, and toying with edging options, I decided to edge it and I picked buttons. I started this sweater when I was less plump. If I were still less plump, I may have left off the ribbing at cuffs and bottom for more of a jacket look, but as I am, I felt I need the length. I'll get a picture wearing it when it dries.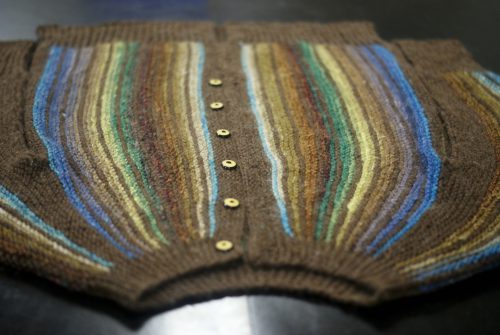 Pattern: 110-2 Jacket in garter stitch with short rows b y DROPS design. I used Lion Fisherman Wool & Noro Silk Garden Light, different gauge than pattern. It was a really fun knit and I'll make it again, this time keeping the original sleeve shaping intact, and reversing the order of the skeins at the center back point so the colors are mirrored. As it was, I made sure the front was mirrored, but the idea didn't occur to me until after the second sleeve, and I didn't have the fortitude to frog back to center back after frogging and reknitting the whole sleeve for gauge. I really like this, but it's definitely one of those designs I'm not sure I'd love as much if I weren't a knitter.
Which brings me to this week's project. Project #5: Destash Log Cabin Throw, formerly Destash Cardigan. Ugly and ill-fitting sweater, but I think it will be a nice throw. A pain in the ass to frog, thanks to the FIVE balls of yarn, including some really sticky fuzzy strands.
Then:
Now, so far: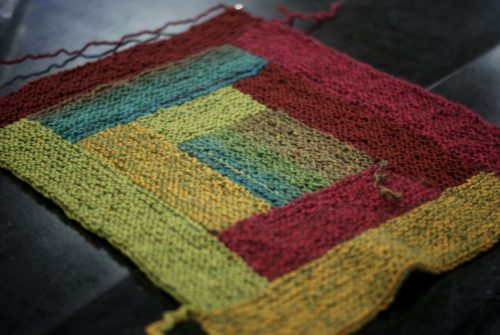 Perfect television knitting. 20 x 40 center square, then all the additional strips are x 20. This is my first log cabin. If it goes well, I might make one of those caddywampus short row ones next. But I didn't want to think at all.
So, yay! I'm on my 4th week of this plan, and I've wrapped up 2 projects and made progress on 3 others.  Going forward, I plan to do ONE THING AT TIME, TASKS TO COMPLETION. We'll see if I succeed.  My new plan is that for ever 2 WIPs I knock out, I get to start something new. I was going to force myself to suffer through all of the UFOs before moving on, but that's too cruel. It's already getting hot to knit.