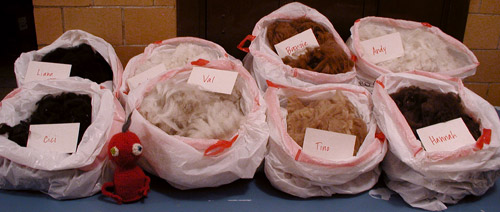 Whee! Just bought a bunch of alpaca fleece for this fall's fiber workshop. We'll be touring a local alpaca ranch (Alpacas at Wildcat Hollow), so I wanted us to be able to spin from the animals we meet. This was my first time seeing alpacas up close and personal, and they're so fucking cute I could cry. The looked particularly alien and puppety, since they'd just been sheered. There was even a youngster, an adorable black cria with gigantic googly lobster eyes. They all stare at you at once, bobbling their darling little heads on their crazy long necks like those ostrich marionettes. Cute! They even poop cute. They pick a toilet zone & everyone poops in just one spot, which they back up to daintily.
The color in the picture is for crap. I'll hope for sunshine to get some nice closeups, but here's what I bought: black from Liana and her baby Ci-Ci; a coarser white/gray from Val, the old lady of the herd; fluffy white from Carl; fawn from Tino; cinnamon from Bronzie; chocolate from Hannah; and white from Andy. Andy's fleece was seconds, from his neck/legs, because they were saving his blanket (the fleece from the back and sides) for competition. Even his seconds were yummy-soft and nice and long. I also got seconds from Liana, Ci-Ci, Bronzie, Carl, and Hannah. If they're too short, I'll buy that Japanese felting book at the Yarn Barn and play with them.
I didn't get first pick, because I missed the shearing on Saturday morning (we were up very late working), but there was still lots of nice fiber. Not that I actually know anything about it. I just shot for the softest, longest, and my favorite colors.
The owners, Marta & Ed, were wonderful and so friendly. Marta promised to email me pictures, so I can show off what came from who. Besides the alpacas, they have goats (pets), a pair of Maremmano-Abruzzese (I think that's right–just looked them up and those seem right) Italian sheepdogs, the alpacas' guardians, and two lovely, sweet Australian shepherds, one old lady and one pup. They were very warm and kind, and they're going to arrange for some finished yarn to be available (from their remaining fiber and other local ranches) when we tour the ranch, and we might even do a little wine & cheese thing there. The grounds are beautiful and very inviting. Oh! And they may have hooked me up with an angora lady, which would be really fun.
I noticed in the paper that 4H is selling lambs…. that might be another avenue to invoostigate as well.