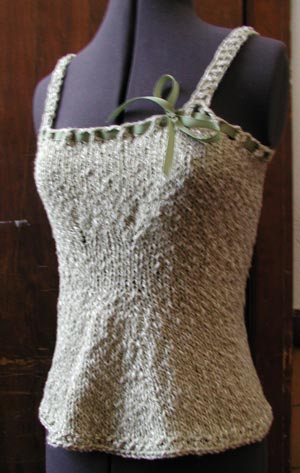 Time: 6 hours
Cost: $12 – $14
Skills: knitting in the round with circular needles
Level: beginnner
You can wear it with the ribbon woven through the whole thing, or (how I'm wearing it now) with the ribbon woven through just the eyelets between front &/or back straps and cinched up a bit.
Calling this a 1-ball pattern seems a little cheaty. Technically, it does use just 1 hank of yarn, but they're big hanks. But, I don't control the put-up size, so there. 1 ball it is!
Inca Cotton is a thick/think super-soft, baby-yummy cotton, but a little sheddy to knit, so don't wear black, or it will look like you rubbed yourself all over with a cotton ball.
Yarn
1 hank (about 8 oz) Henry's Attic Inca Cotton (100% organic cotton), Sage (a green/natural twist)
1.5 yds 1/2″ sage green grosgrain ribbon (verision 1) or 1 or 2 1-yd lengths green or teal velvet ribbon (the velvet stuff was from The Ribbon Jar)
Size
Women's M, with a lot of wiggle room. Will fit a 34 – 40″ bust, measured at widest part. I was going to try it on with progressively more wildly padded bras to see just how far it would go, but I can't find it. It's either in a hamper, or was crammed away somewhere stupid in my last mad dash-and-stash cleaning frenzy.
Needles
US 10.5 24″ circular
Gauge
13 st = 4″ in stockinette st
Instructions
CO 100. Join & PM, being careful not to twist stitches.
Eyelet top edge: *K2tog, YO, repeat to end.
K 21 rnds.
Place dart markers: K40, PM, K10, PM, K40, PM, K8 (not quite finishing row).
Starting 2 st before row marker, ssk, SM, K2tog, the continue in stockinette, repeating ssk/K2tog decreases around each marker. You'll work all your increases & decreases in the same way, starting before that first marker (since the rnd marker is also your 1st dart marker).
K1 rnd
Repeat decrease rnd
K 10 rnd
Increase around each marker by K tfbl on stitch before and after each marker
K 3 rnds
Increase rnd, as above.
K 4 rnds
Increase rnd
K 5 rnds
Increase rnd
K 6 rnds
Increase rnd
K 7 rnds
Increase rnd
Work 2 rnds in seed & BO.
With RS facing, examine bust darts. Each side will have 2 darts centered in the middle. Follow stitches up from darts to top edge, then count 4 eyelets out from that stitch & mark with a pin or locking stitch marker. Repeat for remaining 3 darts
With WS facing, working from one of the front strap markers, PU 4 st around each marker thusly: 1 into the stitch on the left of the eyelet, one into the eyelet hole itself, 1 into the stitch above the eyelet, and one into the stitch on the right of the eyelet.
Work 48 rows in garter, slipping the first stitch of every row. BO.
Repeat for other side, being sure you're starting on the front & not the back marker.
Sew each strap into place over the marked position on the back.
Weave in all ends.
Starting at the start of the row, which will be comparatively untidy, weave the ribbon back and forth between the eyelets so that imperfect spot will be obscured by ribbon (i.e., the ribbon should go over that part, not under it). Tie in a bow to suit.