Kelly from Knitigating Circumstances (kellydawn on ravelry) sent me her Wearability Wednesday post on her daughter's Carnaby. The post features Emma's Carnaby skirt in several different ensembles, and also shows her modeling it as a capelet. The pictures were so darling I had to share: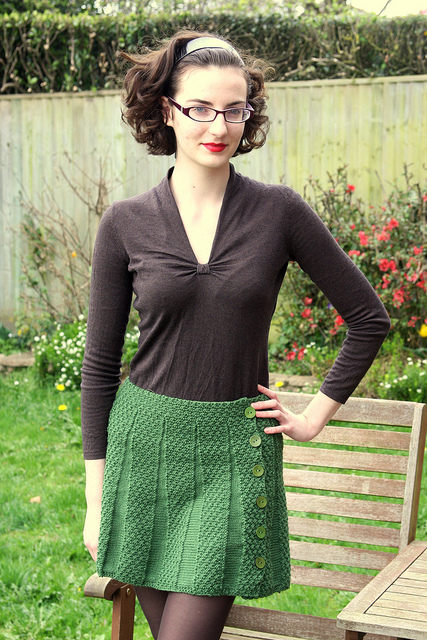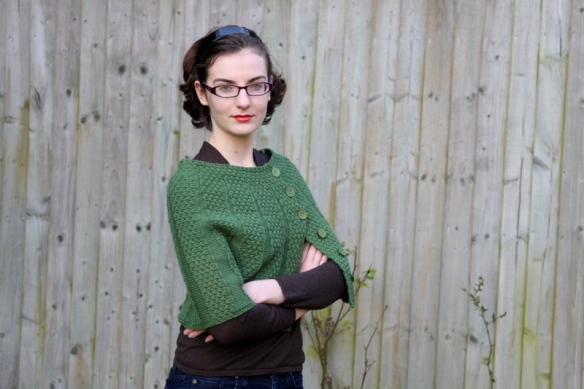 (Thanks to Kelly & Emma from Knitigating Circumstances for the photos)
If you're thinking about knitting Carnaby, the post has includes many photos and a nice overview/review of the pattern. She points out that it somehow looks great at a wide range of lengths and on a whole spectrum of body types, which delights me.
My own Carnabys have turned out to be surprise favorites, despite my initial fears that I wouldn't be able to pull of a flirty skirt with my wide rid hips & thunder thighs. But the textured pattern really does a bangup job of masking all the lumps and bumps that typically shame me away from wearing knits on my hindquarters. Mine are knit at the standard pattern length, but if I were one of those lucky creatures like Emma here, with long slender legs, then I'd probably make them as short as possible (of course, that would make a much skimpier capelet…).
Carnaby (by me!)
Knitty, Deep Fall 2010