I made some more yarn last night on my drop spindle, almost 90 yards. It's kind of scratchy wool, so I think I'm going to use it to make a critter or something practical, not something to wear.
Here it is on the spindle: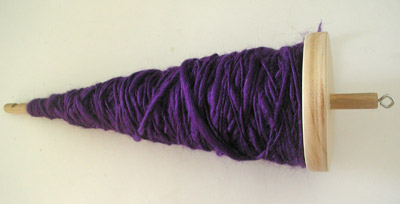 I'm way too slow to actually use it properly, so I did the "park-and-draft" method. But yarn's yarn, so up yours. No, not really up yours, because I would like to learn to do it properly, but I definitely need more supervision. The class I took barely touched on spindles. And this was actually a bottom-whorl spindle. I shoved an eyelet into the opposite end to make a top-whorl spindle, since that's the small experience I had. The spindle came with the purple roving, some dyed locks that I put aside for later, and a video tape that I found completely useless. I don't know whether it was the video or me, but I finally just had to turn it off and flip the spindle over & rig up the other end & try to remember what I'd learned in class because I was getting nowhere.
Here's the yarn in a hank: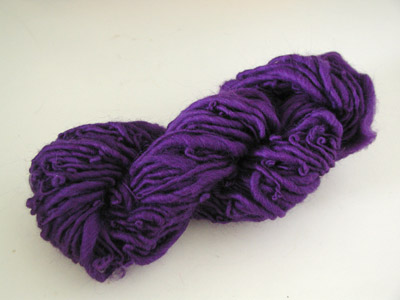 As you can see, I don't know what I'm doing. But it's awfully fun. And this is certainly yarn!