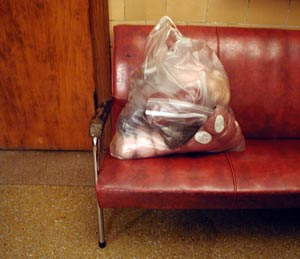 I culled out a great big bag of stuff for the flash your stash. Hooray me!
I also wasted a bunch of time reorganizing my yarn yet again. I moved all the stuff in the cabinet into the 3 lockers closest to my room, and made lists of what's in each locker, so I can print them out and magnet them to the locker doors.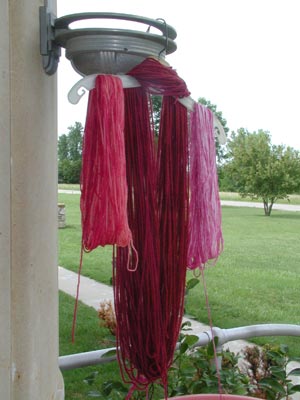 I also played with dying a little miscellaneous yarn. Here it is drying just after sunrise. I'm pleased with how it turned out. It looks even prettier dried out and twisted into hanks, but I can't get the color right without daylight.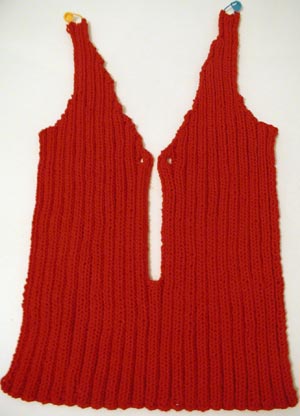 Here's the back of the knit.1 tank. (Here's what it looks like assembled.) The decreases look ugly, so I'll probably pick up the edge stitches or do a slipped-stitch crochet edge all the way around. I probably should have cut the ribbing a stitch or two before all the edges, but I wanted to try to stick with the pattern. I did change the armholes so that they weren't stepped, as written, since that looks kinda weird when there won't be a sleeve going in.
I'm totally exhausted (my goal). I woke up at 1am yesterday & decided to go ahead and get out of bed to wear myself out, so I could get off my 6am bedtime. Somehow, with a 25 hour day, I still didn't get all that much done. Oh, well. There's always tomorrow. Nighty-night.