Today I received some yarn I'd ordered before I joined the stashalong. I'm actually kind fo relieved that it didn't really thrill me. I almost have buyer's remorse. The first stuff, 10 balls of On-line Linie 20 Cora (60/40 superwash merino/acrylic) , is just a bad color for me, but I like the yarn well enough. It was described as "mauve," which is what I'd call it, but the picture just looked a lot brighter, so I gave it a whirl, because the price was right. I think I'll see if anyone likes it at the Flash Your Stash, and otherwise, I'll just keep it and dye it a more suitable color.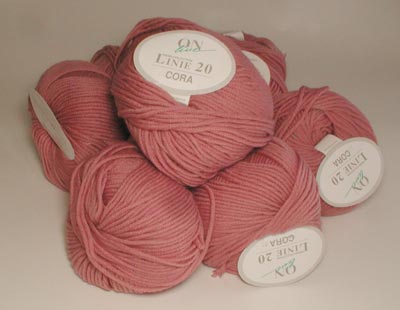 The other lot was 10 balls of Schachenmayr Two in One in a sort of Halloweeny blend of black and copper and orange.
I'm kind of into it, but it's getting the gears all turning or anything, but maybe it will if I seek out some patterns. I'm guessing it knits up all tweedy, so it might be nice for a skirt or tailored cape or something. Maybe that Brioche Raglan I liked…. It's too warm to consider seriously. Oh, or maybe a nice, plain man's sweater. Ron does love orange…
Anyway, my point is that it didn't make me all delirious and eager to consume more. I've gone a week and change on the stashalong, and so far, the only yarn I still want is some Rowan Plaid and some Karabella Piuma Gold (both on sale).
I also reorgainzed my yarn (now it's roughly gathered into fiber content/weight), and culled out a respectable bagful for the Flash Your Stash. Maybe as it gets closer, I'll get more ambitious/realistic and stuff the bag. The best part of reorganizing was cramming a giant bowl with all the single balls under 100g (100g balls area easier to contemplate by themselves). It's very pretty.
OH! And I sent back my first dummy today, completely on schedule! Look at me, finishing on time. Okay, I'm not utterly, utterly finished. I still need to organize my notes and finish some captions/schematic measurements. But that's just tidying up.
I really really really hope they accomodate the changes I want. I want a little less talk, more rock. And a couple more patterns squeezed in so the chapters are better balanced. I'm still not happy with the tech photos, to be perfectly honest. That's my own fault–I just couldn't find a yarn I really liked and ended up settling for one that I'm not crazy about. I wish there was a way to redo those. I'd also shoot a couple more pattern-specific shots if I could. I wonder if I know someone in KC who would do it for me?
Next weekend, I'm taking a spinning class at the Yarn Barn and then going to the TNNA market in Indianapolis. Well, I'm about 85% sure I'm going to the market. It will depend on whether I finish all my already-late Vickie stuff next week. I'll be crocheting my ass off.