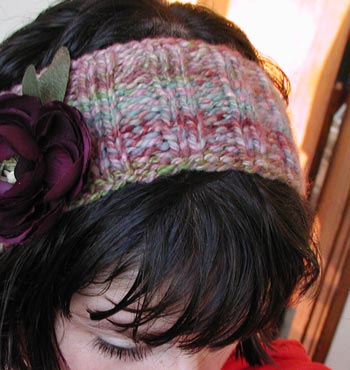 Thumbing through my books, I just realized this is very similar to a pattern in Odd Ball Knitting, so I must've cribbed the idea from them. So no pattern, because I like the book! (Not that it takes a pattern to knit a circular tube, but it's the spirit of the thing.)
I just cut off my hair for summer, but in the wintertime, I'm always annoyed with the hat/ponytail conflict. And since I've moved to the cold place and wear hats all winter (even to bed, often), I've had to struggle with ucky winter dandruff–which clears up if I ditch the hat for a few days, but then my head's cold! Headbands are a dandy solution to both problems.
They're also a great showcase for fancy yarn, which can get drowned out in a bigger project. I had two minute balls (a mere 11 grams total) of yummy yarn that got stranded after last October's knitathon.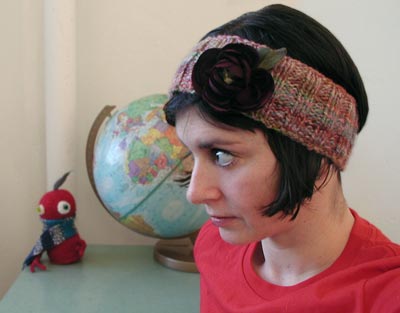 Attaching a Silk Flower:
Snip off the stem of the flower. Gently pull the petals apart and look inside. If there are several plastic shapers, take the flower apart and remove them–they add weight and make the flower too 3D. Then reassemble the flower and tack it together with a few stitches of sewing thread. Often there's a plastic center capping the whole thing together. It can pop out with no stem to latch onto, so It's good to make sure the thread goes through or over it when you tack the flower together. Picking a flower with an elaborate, partially hidden center makes this easier, as the thread gets hidden in the little stamens or whatever they are, and the whole thing gets further obscured by petals. If there's any extra stem sticking out after your skeletal surgery, trim it down flush with the back again, and tack that baby to your headband with a half dozen stitches near the center of the flower, artfully concealed with petals.
This one was the medium ranunculus type flower from a spring of 3 at the Hobby Lobby. The spring was $1, half off from $1.99. I'm going to use the remaining two (big & little) clustered for a clip or a pin.